Finally, it's here! The most recently developed website that caters to every game player fantasy because we understand how passionately you feel about playing. Our aim is to create an extraordinary game playing experience that will keep you coming back for more. Each game is distinctively built with enhanced sounds, graphics, and design, image quality as well as individual added-on features for each character.
AirConsole has an enormous selection of games to choose from such as children's games, racing games, fighting and action games, sports games, arcade games, family and party games. Every game has a single player option as well as a multiplayer option. Our games are free and can be accessed online via our website. AirConsole is an internet gaming application that transforms your smartphone into a game controller. The application requires the use of a smart screen that connects to the internet. There is no additional software that needs to be downloaded but instead a quick set up that permits you to play all of our other games. Whatever your gaming preference is, you will find an online game that attracts you.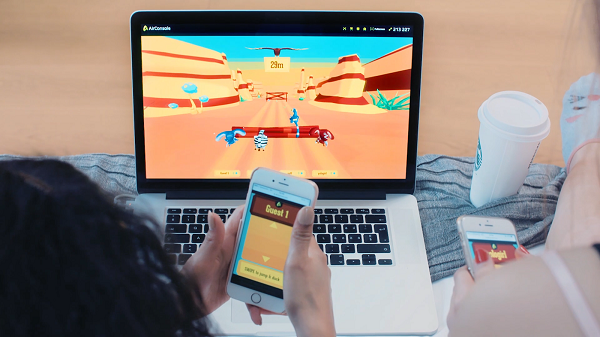 The awesome Tower of Babel is a perfect option for a fun party game that will keep the laughter going. Up to 8 players can play Tower of Babel. The objective is for you and your friends to achieve a common goal, of building a tower. However, the communication chain is broken among the players, and each player has to continue placing the blocks regardless of what has happened. You are unable to contain your laughter. The towers' construction has never stopped and is still being built, even if there's no form of communication among players. Your friends will try hard to trap you into positioning your block onto the unstable area, but be careful when the block is being laid out. A power-up feature is given to the character that properly places the block on top of another. The trick is trying to get your friends to lay their blocks on an unstable part in efforts of destroying the tower. The suspense and thrill are high, as everyone is patiently waiting to see who will get blown up by the power-up. A wrong move by any character will ultimately destroy the tower. The power-ups include a bomb, wind, block transformation or swapping blocks.
Do you enjoy singing? Are you ready for your smartphone to be transformed into a virtual microphone? AirConsole's Karaoke application is made for you. It contains over 7500 songs, including songs from the 80's in its music library. You and your friends are singing to countless genres of songs in different musical keys. Eventually, everyone will join in singing even if it means singing the wrong lyrics. The central focus is on having fun, and that's what you all are doing.
Watch Your Back is a game from AirConsole that can be played among friends. This classic game can consist of 2-4 players. Each character of this game is stationary. However, they can rotate and guard themselves by using their shield. This cool game seeks to test your skills and timing. Enjoy battling against your friends to be the last person standing. However, you need to watch your back and shield yourself at the same time. The character holds up the shield to bounce off attack attempts made on him.  After four direct hits, your character becomes null and can no longer be the winner. But wait! The fun continues because the null character can still attack you using a different weapon. Your friends will enjoy this competitive battle among you all. Do you think you have the skills to win this game? Action is louder than words. Are you ready to set a new time record? Gather your friends and let the battle begin.
AirConsole is online gaming platform offering a wide selection of free games that are accessible to you via the internet. As long set-up is complete, you can start enjoying the games. Invite your friends to visit our site and play any of our games. Whether you are looking for a form of entertainment or just to kill time before making your exit, spare a few minutes to experience AirConsole's games. We understand your gaming needs and your passion, and it is for that reason AirConsole decided to work with the game developers in creating an enormous selection of games. The aim is to cater to every game player, by allowing you to experience the thrill and excitement while playing one of our games.
Our games are also designed for children as well, helping them to focus and by engaging their brains into a specific mode of thinking. AirConsole is continually working to enhance further and advance its games for your enjoyment.