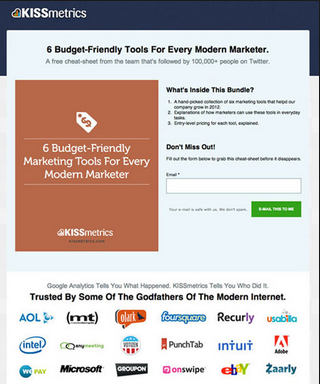 Are you worried about the high bounce rate of your landing pages? Well, there can be a wide range of reasons behind your landing page's low conversion rate. Companies create landing pages because they want more conversions. And when it's about converting your target audience, you really need to do extensive research to produce designs that instantly 'hook' the audience and content that compels them to complete a desired action.

To design a landing page that brings maximum conversion, you really need to be clear about internet technology and your business goals, locate your target audience and be aware of the action that you want the visitor to take among others.
One of the most important aspects of a high converting landing page is that it should have the potential to build trust among the audience. Here, we'll focus on the things that you need to do to create that 'trust', which results in a maximized conversion rate. Let's have a look at some of the most important components that you should use to build trust so that your target audience feels entirely when they make up their mind to complete an action.
Is Your Telephone Number There?
While talking about a landing page that builds trust among visitors, the very first thing you need to do is place your phone number on it. Visitors are always concerned about the legitimacy of a website. And a telephone number is that first crucial component that tells there are real people behind the service. In addition, giving your phone number on the page also helps visitors who aren't yet ready for online transaction but they are interested in the offer.
Offer a Small Part or Preview for Free
When people first land on the page, they may feel a little uncomfortable to share their personal details in return for the product that you are offering. Even if you are offering your audience something for free, let them have a small part of the product (such as e-book) so that it generates trust among them. Once you have won their trust, visitors will not hesitate to share their personal information with you.
Stay Away from Full-of-Gimmick Sales Tactics
While selling a product or service, you may feel a strong desire for using sales tactics that are full of gimmicks. Remember, today's audience is smarter than ever. They have the ability to see through things. Therefore, using sales terms that are gimmicky won't help. If you want a landing page with high conversion rate, stay away from the hype and try to build visitor's trust first.
Don't Ask for Information Which You Won't Really Need
Asking for extra information from your target audience won't help. Asking your audience to submit some additional or extra information might drive them away. While creating the landing page, you should be very clear about your objectives and the information that you'll actually need.
Include Testimonials
For creating a high conversion landing page, you should also remember to include testimonials from consumers or clients. Many businesses will make the mistake of making up fake testimonials. Stay away from it, if you really want your landing page to build trust among visitors. To increase the rate of conversion, place only genuine testimonials.
Use Credentials & Certifications
One of the most essential components of a trust generating landing page is the credentials or brand logos that prove your authenticity. But don't be desperate to sport just any type of alliance. Use only those credentials that are already established and can immediately create trust among the audience.
Have a Privacy Statement
The privacy statement on the landing page is an essential ingredient of a highly converting landing page. Visitors may feel scared while submitting their personal information. Make it clear in your privacy statement that you'll never abuse or share the details with a third party. And make sure that the statement is clearly visible or readable by the visitor.
So, if you are planning to design a landing page with maximum conversion rate, don't forget to generate that 'trust' factor because its very important for all internet info blog and landing pages.. The rate of conversion can be maximized when there's a higher level of trust. In any case, don't forget to split-test you landing page by changing the location of components and keeping or removing some of the elements to find out what actually works.