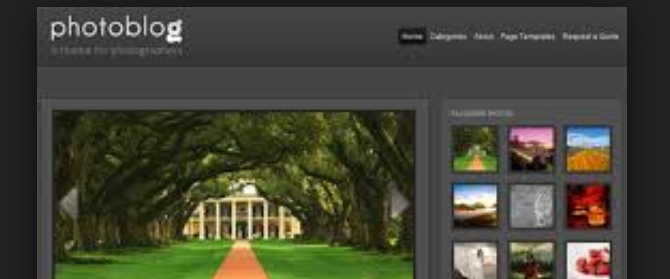 Make Your Photo-blog Stand Out With These Great WordPress Themes
Using a great WordPress Photo-blog Theme for your blog to showcase your photos can make all the difference between having an awesome site and having just another ordinary site.
There are plenty of options out there to choose from and a number of factors to consider when choosing a wordpress photo-blog theme. Most obvious is of course the visual impact but equally important is the ease of use and the customization options available. The support provided by the designer also plays an important role.
Based on the above factors here is a collection of some of my favorite wordpress photoblog themes.
Aperture WordPress Photo-blog Theme
Aperture is a photo-blog theme for wordpress by Woo Themes, its main features are a unique home page with latest posts slider as well as visual category display. It also has a blog module and lots of stylish widgetized spaces. Included are 12 alternate styles and a visual archive system. This theme is highly recommended.
Its worthwhile noting that Woo Themes has extensive support for its users including detailed tutorials, a knowledge base and general and theme specific forums where you can get assistance from an expert. They also have an awesome permanent 2 for 1 deal on all their themes.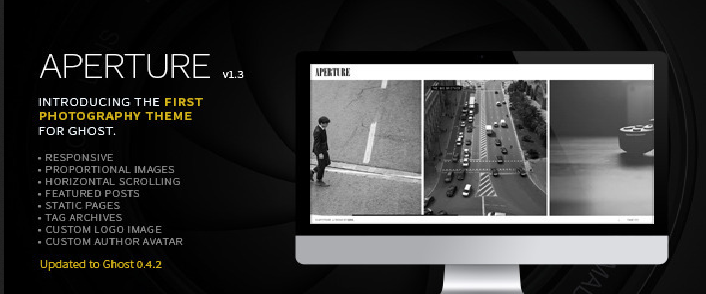 This photo-blog theme has many Unique Features including:
A slick home page slider that shows your latest posts;
Home page visual category boxes that includes smooth java-script hover effects;
A good looking category archive template that includes images and also has JavaScript hover effects;
A dedicated blog category template and home page module;
6 widgetized areas for you to add any wordpress widgets you want and also 7 custom Woo widgets (4 footer modules and 2 sidebar modules) and
12 cool color schemes to suit your site identity.
In addition there are also a load of Standard Features including:
Integrated theme options (for WordPress) for you to change the layout, color scheme etc. for the theme
An automatic image resizer, which creates thumbnails for the blog posts on the home page;
Threaded comments for WP 2.7 and above;
Nice drop-down menu's with hierarchy for your main navigation;
Custom page templates for Archives & Sitemap which makes for easy set up and
Built-in gravatar support for comments.
Black Canvas WordPress Photoblog Theme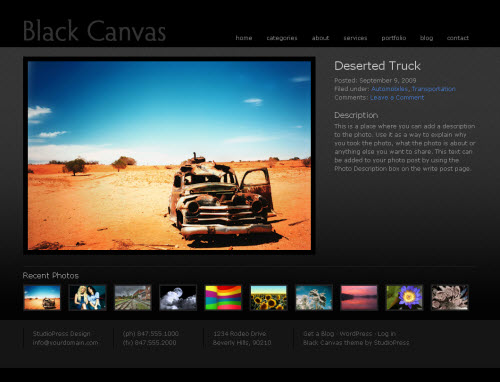 Black Canvas is a cutting edge wordpress photo-blog theme from Studiopress. Studiopress themes are clean, attractive and functional with loads of customization options. This theme has a large featured section to highlight your latest and best work with smaller thumbnail photos featured below.
Studiopress are highly respected and offer comprehensive tutorials that can teach you how to customize your theme yourself if you want to and they also offer customization services. In addition you get full lifetime support and there are general and theme specific forums to answer any questions you might have. Quality is the hallmark of Studiopress.
The main features of this photo-blog theme are:
Its Widget ready with drag and drop functionality for adding any widgets you want
An integrated theme options page that allows you to customize the look and feel of your photo-blog with drop-down options its very easy to set up.
Advertising ready and should you want to put any advertising on your wordpress photo-blog all you need to do it add the code to the ready made advertising widgets.
Threaded comments with gravatars
PSD Files Included
Lifetime Support
Comprehensive wordpress and theme tutorials to suit new users and experienced users alike.
Approved designers to assist you with any customization needs you might have.
Click here to go to the Black Canvas page
Rich Photo WordPress Photo-blog Theme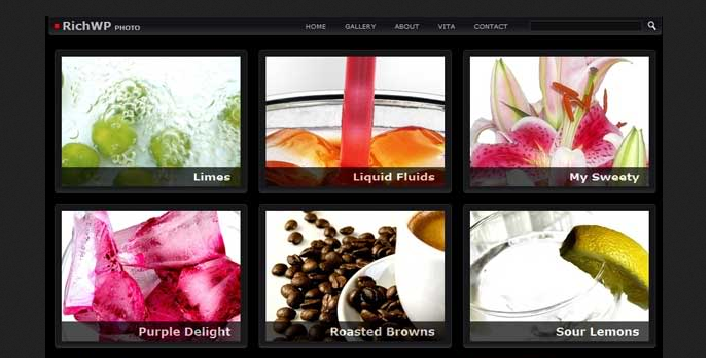 The Rich Photo wordpress photo-blog theme by Rich WP is a fresh and funky themes with clean lines and it displays your photos on the homepage in a 9 box grid providing you with plenty of opportunity to showcase your latest and best stuff.
Rich WP offer personal support from the designer to help you get things set up and running should you need it. However this photo-blog theme is very easy to set up and it comes with comprehensive instructions for setting up and customizing the theme. Rich WP also have a great 2 for 1 offer.
Packed with loads of features which includes the following:
Its fast and easy installation no need to mess about with source code. No PHP or HTML knowledge required. All configurations can be made from within the integrated admin panel
It has easy content management you can upload your photos in any size you like. and add any additional information you want such as title, description and meta information.
Keeping things simple two color schemes – Bright and Dark
An automatic image size generator.
Threaded comments support with gravatars
Free updates
Compatible up to latest version – WP 2.8.4
Works in all the latest major browsers Firefox V2.5 and up; IE7 and up, Chrome V1 and up, Safari 4