A wordpress blog should always have search engine optimization(SEO) plugins to be ranked top on the search engine ranks. Well out of millions of blogs if your content has to be reached to most of the internet users it is very hard with out optimizing your blog posts to the search engines. As you may be knowing that more than half the traffic for most of the websites will come through web searches only. If your blog is not search engine optimized you will definitely have to loose much of the traffic from search engines.
There are many SEO plugins available for wordpress, thanks for wordpress plugin community for developing such plugins considering the need of the search engine optimization for blogs. Here is a list of top 5 best wordpress plugins that i found.
All in One SEO Pack :
This is one of the top wordpress SEO plugins which will automatically optimizes your blog posts for ranking best in search engines. It allows you to set the best title and keywords for you post and with many other options. ALL in One SEO Pack also has got built in API so as to allow other plugins and themes access.
For some baffling reason, WordPress does not support any custom post META out of the box. All In One SEO Pack adds the META Description, Keyword & Title options to your admin panel, so that you can customize which pages get which tags either by default or individually. Yet another feature that should have been standard!
-Assign META Keywords/Title/Desc on a page by page basis
-Adds a new "box" to your admin panel when writing/editing a post or page
-As an added bonus, it sets "nofollow" links to archive, category and tag pages, so that you don't get spanked by Google.
–Many if not most serious WordPress users will argue that this is a must have plugin.
Download All In One SEO Pack here.
* Note: All In One SEO Pack was abandoned by its developer Uberdose in mid June 2008, but has been picked up by another developer. Only download it through WordPress.org from now on (linked above).
Platinum SEO Plugin :
If you're looking to an alternative to All In One SEO, a new competitor has appeared: Platinum SEO. This plugin brags to do "everything All In One SEO does, and more," as it enables a whole bunch of great options including nofollow/dofollow enabling of both internal and external links, an automatic 301 redirect handler for name-changed permalinks, and even allows you to import your settings from All In One SEO in case you want to use this plugin instead!
This plugin offers features like post slug optimization and automatic 301 redirects for permalink changes. It also help in avoiding duplication of content in the blog.
Download Platinum SEO Plugin here
SEO Smart Links :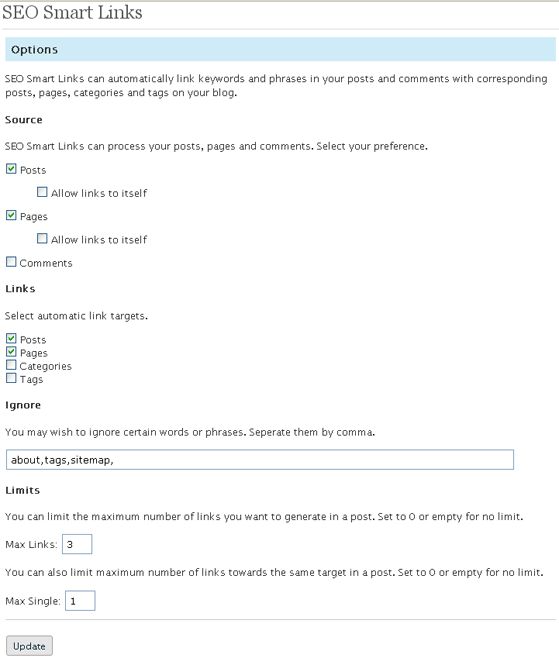 This wordpress plugin allows you to automatically link the keywords and phrases in your posts and comments to other relevant content of the blog. As per SEO theories not only the external links but internal links with in a website also help in ranking the content on a page. This SEO plugin helps you build the internal links and keep your blog more effective on search engine rankings.
Active Installs: 100,000+
Related Plugins – SEO Auto Links
With SEO Auto Links you can easily add links (automatically) for keywords and phrases in posts, pages and comments.
Google XML Sitemaps :
Generally search engines find any web page based on the links found on other webpages to this page. The other way search engines can find your pages is through XML sitemaps. Google XML Sitemaps plug generates a special XML sitemaps for your blog which will help many search engines like Google, Yahoo, Ask and MSN find your content and index in a better way. In addition it automatically it automatically notifies major search engines when ever a new post is published in your wordpress blog.
Download Google XML Sitemaps here
SEO Friendly Images :
Adding proper Alt and Title attribute texts or values to the images is very essential in SEO. This wordpress plugin automatically adds ALT and TITLE attributes for the images that are not set already. Alt attribute helps your images rank best in image search for that particular keyword used in Alt.
Download SEO Friendly Images here
All the above are the top and best wordpress SEO plugins which will help you build a search engine optimized wordpress blog and help you rank well in the search results. Not only best wordpress themes will help your blog perform well but plugins also does that job.