Do you want your website to be ranked higher in search engine? Do you want a better number of traffic than ever? Do you want your website be secured? If yes, then this article is for you. The SSL certificates helps you to secure your website's connection as well as boost its rankings in Google and other search engine. We should definitely give thanks to the services like Let's Encrypt that you are now actually able to get a free SSL certificate for your website and make it secured.
yes !! this true. All of the benefits of SSL certificates is for free of the costs!
In this article, I am going to tell you about what SSL is as well as how they benefit your website, and also how you can get your very personal free SSL certificate. Beside these, I will also show you a super simple plugin that will help you to get setup with SSL on WordPress.
What is an SSL Certificate?
Have you ever noticed that some websites start with "http://" and some websites start with "https://" and they also have a green padlock beside. If you have noticed these, then you've seen the final result of an SSL certificate. But the thing you missed is the main backend there.

SSL stands for Secure Sockets Layer. Basically what SSL does is, it establishes an encrypted link in between your web server and your client's web browser. This ensures the data passing between web server and client's web browser remains private and secure.
When the HTTP connection is unsecured, third-parties can easily snoop on any data passing between your client's browser and your web server. This is a great issue if you're sending or receiving very sensitive information like credit card numbers or passwords.
But now-a-days, many entities, including Google, are forcing us to use secured HTTPS connections for all data or websites.
Why Do You Need an SSL Certificate?
Not so before an average number of webmasters needed to think or care about SSL was eCommerce. But all the system was changed in late 2014 when Google posted a circular on SSL certificate and forced to use SSL certificates.
**  SSL was going to be enforced as a ranking factor.
That means the sites that use SSL certificates will get a boost in the SERPs. The boost may not be a huge boost, but I am sure that you'll agree with me that any kind of boost in search rankings is always appreciable.
But now-a-days Google is going even active about SSL. From January 2017 , Google will mark "HTTP websites that collect any kind of passwords or credit cards numbers as non-secure." do you know what that mean? It means that your WordPress page which is used for login will be marked as non-secure if you do not use HTTPS. Here is the change will look like in Google Chrome:

Google also going to expand this feature for HTTP websites like this: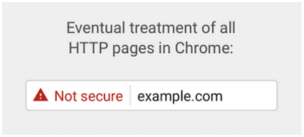 Do you want all of your clients see that in their URL bar??
Definitely not.
Beside offering a benefit to your clients by securing their connection, you also have both a Google-provided reward and threat of punishment to direct you to use an SSL certificate for your valuable WordPress site.
Are SSL Certificates Expensive? What Are the Different Kinds?
I don't want to discuss elaborately about premium SSL certificates because it will distract us too much from the goal of this article which is on free SSL. There are many of different SSL certificates that you can choose from. Each of these SSL are offering various levels of trust as well as security.
For example, https://upwork.com paid premium SSL certificates, that's why they get their company name next to the green padlock:

Here I used only a free SSL, That's why I got only the green padlock.

Both websites connections are secured connection, but Upworks' SSL certificate will offer them the Extended Validation and higher levels of security than mine.
A premium SSL certificate like Upwork uses, usually costs around $150 per year. This expense makes sense because Upwork is a very big marketplace and deals will great amount of money.
But if your site, doesn't process any kind of payment process, I will suggest you to use a free SSL certificate.
How to Get a Free SSL Certificate from Let's Encrypt
If you are going to run just a regular WordPress website and are not going to handle any kind of sensitive information (like credit cards, passwords), you can simply get a free SSL certificate from a service called Let's Encrypt.
This free SSL certificate will give you all of the benefits of SSL that gives the premium ones without costing you a single penny. And this is the best part of the free ones.
A very good news is most major hosting providers are doing partnership with Let's Encrypt to make installing an SSL certificate very simple and easy.
I stated below two simple and easy ways to get your free SSL certificate from Let's Encrypt:
Install Your Free SSL Certificate from Your cPanel Account (for supported hosts)
I have already mentioned before that, many hosts are doing partnership with Let's Encrypt to easily add free SSL certificates directly from the inside of their customers' cPanel dashboards. Suppose, you're hosting at SiteGround , you can easily install a free SSL certificate in about three to five seconds from your cPanel dashboard. All you need to do is to just find the Let's Encrypt button:

Now, just select the domain you want to secure and then click on Install button.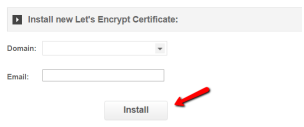 Use "SSL For Free" to Configure Your Let's Encrypt Certificate
If your website's host doesn't support Let's Encrypt, do not be worried. You are still able to get your free SSL certificate simply by using a website. And this is called SSL For Free.

The site will help you to easily configure with Let's Encrypt certificates. But, you have to get access to your website's FTP details as well as potentially support from your host of your website.
Other Free SSL Certificate Options
Though Let's Encrypt is the most popular free option for SSL certificates, it's no longer the only one to give you free SSL. Here are some other options below:
Cloudflare – Cloudflare also gives you free SSL certificates. But Cloudflare will offer you a shared SSL certificate according to their free plan. If you're already using Cloudflare, this is a great opportunity to make your website running with HTTPS and make it secured.
FreeSSL – FreeSSL is a free SSL certificate project from Symantec. FreeSSL is not publicly available yet, Nonprofits or startup websites can easily get FreeSSL right now. You can also sign up to be notified when it goes public.
How to Configure Your Free SSL Certificate With WordPress
After getting your SSL certificate installed, clients will then be able to see a secured version of your website by giving input to their address bar "https://yoursite.com". One more thing, That is, just because your HTTPS connection is activated, it doesn't mean that you are done with your website's security.
To perfectly configure WordPress website to work properly with your SSL certificate, you have to make a little bit of changes. You can do this manually. You can also use an nice plugin that will do everything for you. The name of the awesome plugin is Really Simple SSL.

It will handle the whole process.
Just install and run the plugin and it will automatically make all necessary changes to your website.
Note :
you will be automatically get signed out of your WordPress website when you run the plugin. This is because the plugin changes your default URL from "http://" to "https://." You can simply log in again with your normal login credentials. No need to be worried!
Wrapping Things Up
Because of how Google is forcing us to use SSL certificate, it's not something that you can ignore. This is also a way to improve your website's ranking in the search engine. But Google determined to "punish" the sites who haven't been moved to SSL using Google Chrome.
You can now easily get a free SSL certificate from Let's Encrypt and others, there is no reason of not protecting your client's connections and give a boost to your search engine rankings in the process.
Have you already been moved to HTTPS?
Did any change been noticed in your rankings? Please Share your experience with us.